Octopus Style Tripod Camera / Smartphone Holder. Even Adjusts for Weird Selfies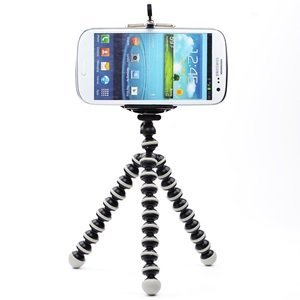 Everything you want in a camera tripod that holds many smartphones as well. It's compact, lightweight, and more flexible than a gymnast. This thing is almost as easy to carry around as your cell phone so there's no reason to ever be without it if you take a ton of photos daily.
Scenario: You're on a beach and spot a sea turtle in the surf. Can't just set your smartphone up in the sand for a picture with you and the reptile together. This octopus style tripod makes that photo possible. Don't try this with a shark. The photo may be incredible, but it may be the last one you ever take!
[su_button url="http://amzn.to/1KDgeVR" target="blank" background="#1d8d32″ size="6″ center="yes"]$3.01 – Check it Out[/su_button]