French Fry Holder. Holds Fries, Not Casseroles.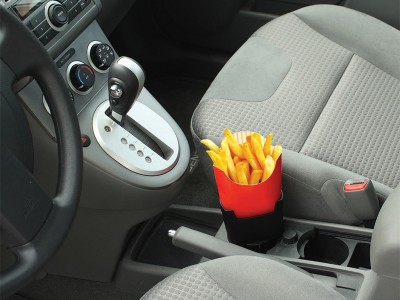 Many people have tried to carry a casserole or pot roast in the car as they commute. They have failed for many reasons. The main one is a lack of a casserole holder in their vehicle.
That's why fries are so popular in the car. They require no spoon and you can actually buy a Fry Holder like this.
There may be a future where we can eat a chicken casserole on the way home from work, but we will take fries for the time being. What's better than fries within arms reach at a red light anyway?
[su_button url="http://www.amazon.com/gp/product/B00AWY95NM/ref=as_li_qf_sp_asin_il_tl?ie=UTF8&camp=1789&creative=9325&creativeASIN=B00AWY95NM&linkCode=as2&tag=nersmag-20&linkId=3NPSUHRWOJSV6BLT" target="blank" background="#1d8d32″ size="6″ center="yes"]$3.95 – Check it Out[/su_button]