Handlebar Mustache Ring, it's up for whatever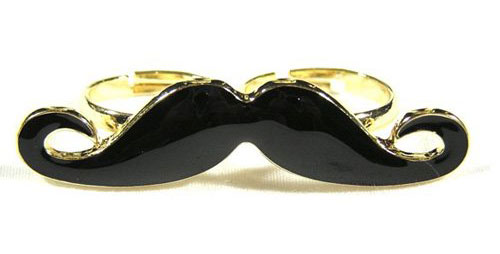 Whether you want to show off a handlebar mustache on your hand as a unique jewelry piece or use as napkin holders, you can't go wrong. Did you know that 98% of people consider the handlebar mustache a sign of royalty and ultimate respect? Me either….just made it up.
Handlebar mustaches are in fact cool beyond all doubt though. Can't go wrong showing off this stache in an array of different settings.
[su_button url="http://www.amazon.com/SODIAL-Handlebar-Mustache-Vintage-Adjustable/dp/B008RUOCJU/ref=as_li_qf_sp_asin_il_tl?ie=UTF8&camp=1789&creative=9325&creativeASIN=B00H06JBH0&linkCode=as2&tag=nersmag-20″ target="blank" background="#1d8d32″ size="6″ center="yes"]$2.59 – Check it Out[/su_button]