LED Shoelaces: Light 'em Up!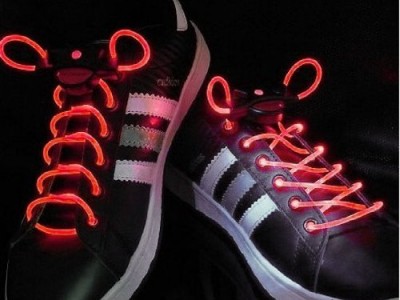 Up your darkness game with these fresh shoelaces. I don't care if you are going to a festival, fireworks display, or a dark alley…these laces will make you the focal point of the crowd. As a side note, you might want to avoid dark alleys.
We've all seen the glow in the dark necklaces and wristbands. Get outside the glowbox with shoelaces that you can leave in all the time, not just for special events.
Great safety accessories for runners as well. Only works in the dark in case any of you are unaware of the physics of light.
[su_button url="http://www.amazon.com/gp/product/B003Z0P08O/ref=as_li_qf_sp_asin_il_tl?ie=UTF8&camp=1789&creative=9325&creativeASIN=B003Z0P08O&linkCode=as2&tag=nersmag-20&linkId=XDZB5WJY4DO54DNV" target="blank" background="#1d8d32″ size="6″ center="yes"]$3.00 – Check it Out[/su_button]